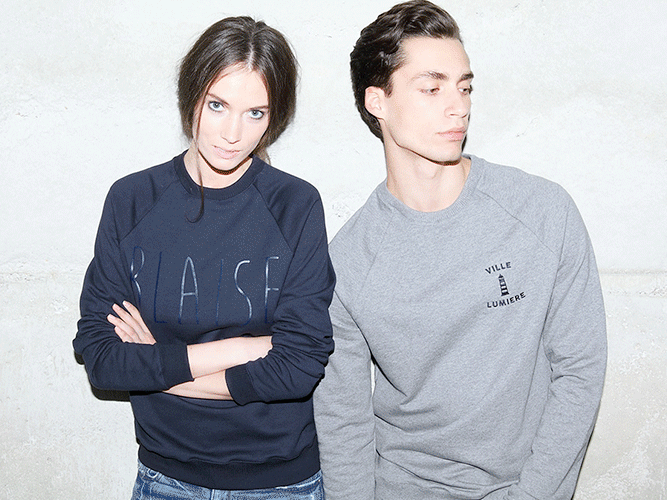 Launched in 2015, VILLE LUMIERE is a new French clothing label created by Franck Menegaux. Backed by his experience at A.P.C. and his love of fashion, he offers a new vision of unisex ready-to-wear. His inspiration comes from a variety of cultural and sports influences, interpreted in the form of graphic references and combined with products featuring carefully designed cuts and materials.
The name of the brand VILLE LUMIERE is also a tribute to the nickname of Paris : The city of light. 
For its first collection, VILLE LUMIERE decided to develop a line of graphic and iconic sweatshirts and T-shirts.
This essential piece embodies both streetwear culture and relaxed elegance, the very epitome of French style. VILLE LUMIERE develops a new chic, urban and contemporary silhouette. For everyone who loves style, fine details, high-quality materials… and sports, especially football.

This first collection was developed with the founder's favourite club, Paris Saint-Germain, in mind. The silkscreens and embroidery are simple and discreet messages referring to the club of the French capital.

The sweatshirts draw from American culture with its raglan sleeves, British culture with its elegant body-fitting cuts and, obviously, Parisian culture with the silkscreened or embroidered brand name honouring the Parisian spirit and its wide reach.
The 100% cotton fleece is woven and manufactured in France. As for the silkscreens, they add depth and a unique texture to the graphic design.
The collection now expands with an original series of T-shirts featuring new graphic designs that celebrate the legacy and imagery of the Parisian football club, while reintrepreting its distinctive characteristics. 
The same eye for detail that ensured the success of the sweatshirts stands out in these new creations with the choice of materials, prints and silkscreens, not to mention the production, which remains 100% made in France. 

VILLE LUMIERE focuses on French know-how, high-quality standards and an eye for detail as its fundamental values, while affirming the stylistic singularity of each individual.